KASABIAN Main Stage, headliner Sunday night
photos by Steve Gunn, review by Nina Bhadreshwar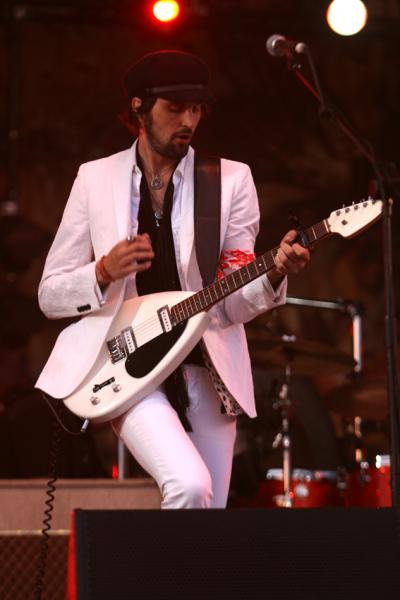 Kasabian have finally, after four performances, made the headline act on the closing night at T in the Park. Having been passed the baton and crown from the Gallagher brothers, they finally get to see whether their new title of Kings of Rock is accepted by The People (i.e. the T in the Park crowd).

Eerie red smoke surrounds the set, a slightly psychadelic atmosphere for the weird rock group. Enter the band, including a white suited Serge resplendent in tight white trousers. Tom finally runs on, raising his hands to call up T in the Park.

'Fast Fuse' opens it up. 'T in the Park, let me see your fucking hands.'
This is followed by the storming 'Shoot the Runner' : 'Scotland , raise your hands, come on!'

Arms churn and the ferris wheel grinds against an ochre sky.

With 'Where did all the Love Go?' the raised melody lifts soaring lights against a sky streaked with orange. Battered security are carried off by the fluorescent ambulance army. The barriers are not that effective with 65,000 odd pushing through.

Jupiter skies, underbellies of a molten lake frame this living movie masterpiece. The band move without diversion through their set until 'Fire' when the whole place seems to be roaring and thundering. For those few moments, you can believe anything. And many realities are born in such moments.

And each reality can have it. People only grow old because they stop pursuing dreams.

Kasabian are the rightful closers of 2010 T in the Park – not because Oasis say so but because they inspire people beyond their own realities to something else. They put on a reality-defying show which is what you need before Monday's arrival.