THE ANTIDOTE TO EXCESS
photos taken by Colin McQuillen, Two Thumbs Fresh Photography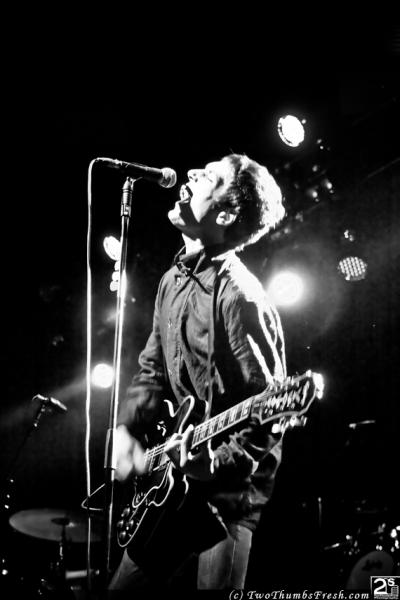 Outside, scooters have been parked up since 4pm. Glasgow's Barrowlands is now full of twenty somethings and an increasing arrival of fifty somethings – a bizarre mix reflecting the influence and span of Paul Weller and also the dynamics of the tight trio, Twisted Wheel – the small pack from Oldham with a bite much fiercer than its bark. But opening for Paul Weller in Glasgow (full of die-hard mods) is no mean feat and it'll take more than a cute rant to get the head nod from someone whose benchmark was The Jam at 18.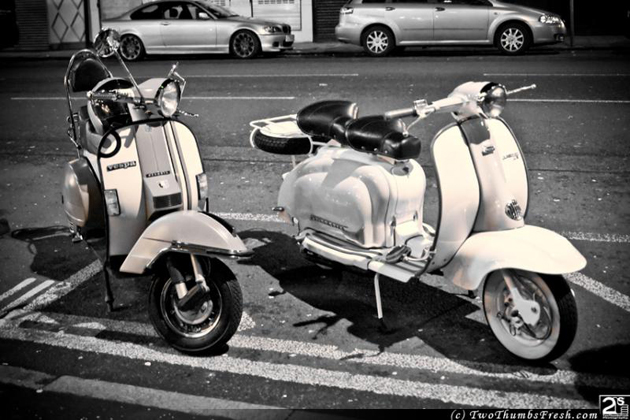 The set opens with the upbeat ode to the girl who brings the party: 'Lucy The Castle'. Yes, it's a feral rock anthem with enough of the familiar to get acceptance but the element of the weird and wonderful 'Castle' and 'When I'm raving with Lucy, I feel like I can fly' is what makes it ring. Heads are already bobbing with cheers and whistles at the end.
'How you all doing, Glasgow?' Lead singer Jonny is very poorly but no one would know as they rip straight into 'Bad Candy', another taut song, reminiscent in structure to days of yore when songs were lean, spare and hungry vehicles of pure emotion – not the laden reproductions of some vague general public thought. The bridge scrapes the beams of the Barras before Rick Lee's bassline thumps it back down to earth.

The audience are stunned and amused. More claps and cheers from those feeling too old to dance (is there such a thing?) 'She's a Weapon' is ferocious, uncompromising staccato. It's raw but not abrasive, poetically fierce rather than political which is probably the main distinction between The Jam and Twisted Wheel. Still the crowd is growing, the bars are empty and 'Weapon' ends with a roar. 'Let them Have It All' has the crowd singing lyrics back and includes the thunderous bridge which is almost a song in itself. Whistles and howls of 'Whee – al!' follow.
Jonny: 'A big thank you to Paul Weller for inviting us on the stage.'
'Wheee-al!' : Paul?
'Can't believe that we've played in this place about six times now. Don't know how we've managed it. It's a good venue, isn't it?'
He turns to some eager fans at the front.
'Is that light doing your fucking head in? Will you turn this fucking light off please? The light's shining in these people's faces and they can't see.'
Said light is dutifully switched off and the show goes on with 'One Night On The Street' – a melodic thump of a tune but it's 'You Stole the Sun' which finally gets the Glaswegian hardheads moving. Who can resist the craziness of this anthem, nor its appropriateness on Scotland's sunless Sunday. Even Jonny gets carried away, forgetting the words of the first verse and laughing: 'Fuck it!'
Everyone is having too much of a ball to notice and the song receives the biggest applause of the night. 'Oh What Have You Done (you dirty rock n roller)' has the crowd totally in hand. By now, everyone is on board and the finale 'We Are Us' is bang on.

The stone cold audience are now fully alive, warmed up and raring to go. I totally understand why Weller wanted them. Yeah, they do bring back ready images of the volcanic intensity of his younger years but without the oh-so-serious mood. Twisted Wheel are exactly what it says on the can: as rock 'n'roll and ready to go as a wheel but with that energy and random twist which makes them a pure joy to behold and less likely to fold than their peers.