JAMIE T – Radio1/NME stage
Friday 7.15pm
Photos by Steve Gunn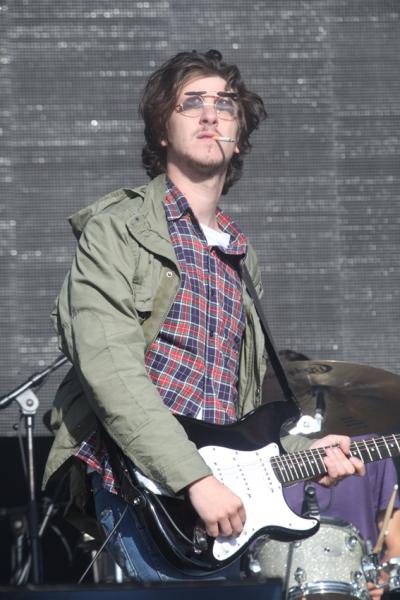 Jamie T is the 24 year old singer/songwriter from South London who released his first EP on his own Pacemaker Records label and now has his Pacemakers with him on tour – trying to avoid the heavy mantle of one-man-genius merging everything great about punk, rap and Arctic-Monkey-era together. Plus that NME Award for Best British Solo Act.

So T is the best place for him. Ever down-to-earth, real as the mud sticking to your wellies, Earlier, I caught him and one of his Pacemaking guitarists getting excited about an automated production trolley motorcycle thing – rather like a grannymotor crossed with a scooter. It is all in the details – that's where he finds his poetry and beauty.

Jamie delivers his sharp, poignant, bittersweet songs flawlessly, looking like a cross between a dishevelled Lennon, Billy Bragg and regular Oasis parka-wearing mod. Poor chap. He should just hire a stylist and start wearing crazy costumes and go all compilation on us so all these expectations of 'voice of a generation' stop.

Nae danger.

The black tarpaulin is rammed to overspill, waving more flags than the United Nations.

Jamie T gets in the crowd with 'Sheila' and dedicates another song to his brother. He works well with his band and appears totally relaxed and in his element here in the post-rain sunshine.

What he probably doesn't see is the small pockets of lads and lassies singing word for word, dancing and performing in a world of their own, a world that he has helped them to escape to. It's performers like Jamie who make T real.