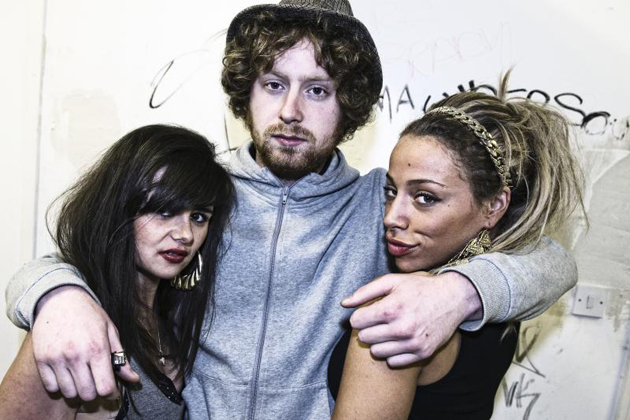 This is the band that, statistically speaking, should not have happened. Or, if it had happened, should have split up. Fronted by two of the craziest, least reliable girls on the East Coast of Scotland and including a terrifying ginger-Afro'd giant capable of mass distruction, two intense musos and a Higher-A-Grades-all-in-5th-year 18 year old brainbox, it would confound any psychologist or astrologist, let alone a Press Officer. They should not be in a band together and they most certainly should not be bookable, giggable and so downright irresistible. Why on earth didn't they follow the careers advice at school and just make my life much easier? Whatever's wrong with following all the instructions for stereotypes? You can't just pick and choose. It makes my job so confusing.
The story starts with childhood pals, Janine Oniyuke (25) and Kirsty Harris (25) who always wanted to do something musically. The eight year old chums turned into single mothers in their early twenties with lives that seemed miles away from their dreams.
Kirsty: 'I'd written a couple of songs and started singing them to Janine.
It started out as a drunken joke.' But Janine loved them. Tragedy had just struck which forced them both to reconsider what they were doing.
Janine: 'I'd written a song about my brother after he died a couple of years ago. His death motivated me to do something with my life. I didn't care what people thought. You know what? It's going to be a bit weird, seeing us two suddenly singing. We knew people would think we were just jumping on the bandwagon.
Looking back then, we didn't know what we wanted. We didn't know what kind of music our songs would take. I was into hip hop, Oasis, R n B. Kirsty was always very much into her indie. All we knew was that we both just wanted to sing.'
The next question was : 'Who are we going to get to play guitar?'
Kirsty: 'Peg (a.k.a Greg Baird aged 22) was my brother's mate. He was dead tall, with a striking ginger afro and could play rhythm guitar. I showed him to Janine: 'There's Peg!' and Janine was like: 'He's perfect! He's even got hair like mine. No way he's not going to do it.'
Peg said: 'I'm definitely up for it. F*** eh. I was a wee bit apprehensive cuz they're girls. I was a bit worried about what my pals would say.'
Janine: 'I never thought he was scared.'
Janine and Kirsty: 'We always found the melody. We'd collaborate.'
Kirsty: 'Save me from today' was totally created from within my head. For me, the melody always comes first. I'll get one line of a verse and then get a melody for that.
'At the start, we had four songs: Who's that Girl, Scenester, Bini Boy and Deceiter was written. I had the melody for that but couldn't find the perfect tempo. There were no good drummers. I was like: 'I'm not playing that song until it's perfect. It's got to be ska.'
Kirsty: 'At the start, nobody was supportive (apart from perhaps Brian Harris from Hanney – he said "You two have got something.'). '
Janine: 'We had to try so hard to get a crowd. Usually in Dundee, new bands start off with big crowds, all their mates and then it dwindles away but it was the other way round for us. There's been nobody that's helped us. We've done it all ourselves. At first, it was hard. I felt dead rejected. I had more mates before I was in a band! For the first gig, people came out of curiosity. I'm not saying we sounded as good as we do now! We were playing with a lot of genres til we found our feet.
'Straight away, us three totally clicked and then with our first drummer, Mel, no matter how we tried, we couldn't get that bond.'
Janine: 'I invited her to my house but she always had an excuse not to come. She just wasn't in there. I tried so hard. Finally, I was like:'She's just not pulling her weight. Plus she wanted to play like Genesis' Phil Collins, her idol!'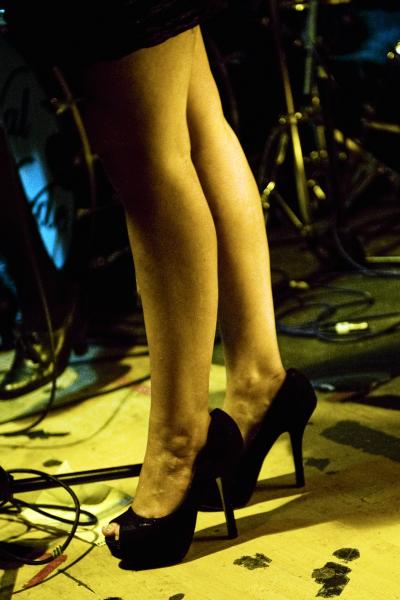 The three met bass player, Jamie Brown (22) and saxophonist Calum Cummings (21) at a gig at The Doghouse. The two of them were in another band, The Hoffs, but left to join 'Peg and The Bouffants' – so-called due to Peg's unruly ginger afro, Janine's black/blonde afro and Kirsty's backcombed beehive.
Kirsty: 'We put up posters for a drummer all over town. 'Must be goodlooking.' Total banter!'
The line-up was completed by Jaq Ingles (then just 16 – now 18), a diligent schoolboy but a demon on the drums.
Kirsty: 'We needed someone who really understood music, could get a ska or reggae or rock beat going.
'Calum at first was really quiet – didn't want to say much. He left it up to us.
Calum's previous band, The Hoffs, were breaking up. 'I was at uni in Edinburgh, getting all my work done. Jamie uplifted PATB songs on to his myspace. They wanted a trumpet player. Peg can't tell the difference between a saxophone and a trumpet so it's open to anything.'
Janine: 'We got our cds printed up and hadn't a clue what we were doing. Thought we were trying to get a record deal! Haha. We gave them to every pub in the town centre. We made the man put on our own cd in the Westie while we were there and started dancing! But he booked us there and then for a gig.'
Kirsty: 'What kept us going? The buzz.'
Janine: 'Nerves. Then you get into it and you're in your own zone.'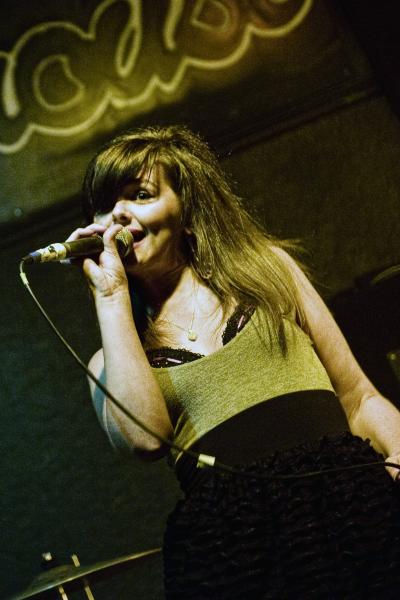 Calum: 'Nothing better than playing your music on stage and getting people dancing, singing your songs and afterwards coming up to you to tell you how good you were. Absolutely nothing in the world.'
Calum: 'Our biggest compliment –was when one old boy from Fife came up to us at a gig: 'Bastard! I thought I'd missed you. I come to all your gigs.'
Janine wrote one song but the sets are a mix of the writing of Janine, Peg and Kirsty with Kirsty writing the majority of the lyrics.
How did the View's supernova success affect you?
'We began to feel it could happen to us.'
Kirsty: 'I believed it from Day !. Even when we were shite.'
What's been the worst comment?
Janine: 'Check your hair!'
'No, it was that junkie to Peg. Peg was doing his community service and this guy said:'You're in that band, Peg and the Goujons.'
'Yeah , there were lots of people not getting it right or thinking Janine was Peg!'
Calum: 'We've got more of a sense of fun than other bands. We're actually deadly serious but, if you saw us live, you wouldn't think it. Janine and Kirsty do come up with crazy ideas. At first, the rest of us go: 'No way!' But then the sense of fun and challenge kicks in, and we go for it.'
Janine: 'We don't say no to nothing. I want to do an electro house P.A. We don't give a sh**. I do like to hear people's criticism though.'
The new song is a reggae-based track, a mix of ska, Vampire Weekend and a hip hop tune. I want to play it that much!'
Calum: 'I like the fact that the crowd are just staring at the girls. It means we can concentrate and get on with the music. I feel less self-conscious because nobody's looking. We get to be free and play our music. This bloke came up to me and said: 'How can you concentrate with that standing next to you?' I replied:'They're our f***ing mates, you sicko!'
Indeed, lots of random craziness makes the set what it is: from Janine hitting the cymbals to poor Jaq getting boob-flashed by Kirsty mid-song. (Surely she gets put on the sexual offender's register for that?)
Janine: 'When I get drunk, I think I'm a compere and am likely to do anything from push-ups to reminiscing raps about Rupert the Bear.'
Cal: 'Not writing the songs originally means we get a chance to have fun arranging them.'
Who are your favourite artists?
Kirsty and Janine: 'Calvin Harris, Mark Ronson. Just think they are so versatile and brave.'
Cal and Jamie: 'Radiohead, Queens of the Stoneage, Kasabian.'
Janine: 'We want to play festivals, want to get further than that. We want to be supporting bigger bands, doing live shows to different audiences, just go further and then further still. '
'Our aim is to take some money from the BBC documentary thing and record a proper cd, get a series of gigs and a mini tour going.'
What's the attraction of being in a crazy and chaotic band?
Jamie: 'Good banter.'
The downfalls?
'PMT, paranoia and tension!'
Janine: 'The best gigs are when me and Kirsty are PMTd out our nut!'
Jamie: 'The only way to get through it is to keep my mouth shut and to look straight ahead.'
Kirsty: 'Because we spend so much time together, our PMT is in synch.'
Calum: 'We should really work it into the calendar and book gigs around it.'
Kirsty: 'They ken when I've not got PMT because I turn up to soundcheck.'
Our best gig was Aberdeen with Root System. Or the 25 band weekender last year when we were voted one of the best twenty five bands in Scotland.
Peg: 'In one year's time, we hope to be touring, making a living off of music.'
Calum:'We are a very good live band.'
Peg: 'Media making up bullshit. Trying to scare ab'dy. The credit crunch won't destroy the music industry; it will just bring out the creators and innovators.'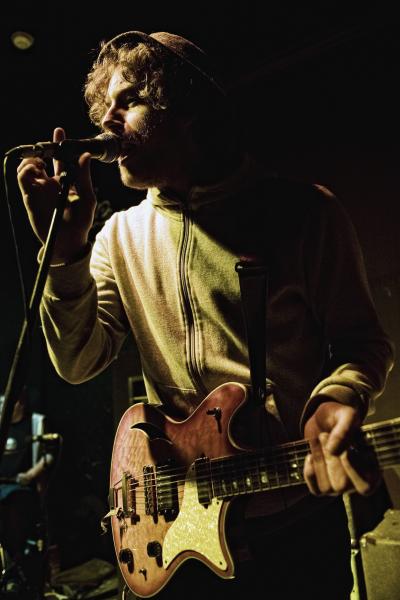 If you had to play somewhere outdoors, where would it be?
'Peg's backies.'
'On the bins.'
'The Shuttle Park in the Poley, behind Kirsty's mum's.'
Janine: Thailand. To have a full moon party. People in the water jiving to you. Obviously we love playing Scotland. Scottish audiences are passionate, more up for it.'
Peg: 'T in the Park. That's the ultimate. I've been there that many times. I just want to play to that audience. I want to be doing that.'
Rubbish bands apparently include The Hoosiers, Scouting for Girls. Calum: 'They just play to the lowest common denominator.'
Kirsty and Jamie: 'It's all about who you know. Bands from Glasgow that I think are dire. Three chords jumping about with skinny jeans, pished. E minor chords. Kirsty: 'We sing for the girls.'
Janine: 'I love M.I.A. I dig her. Also, Ninja from The Go Team. She does mental things. 'This is how the Chinese dance…this is how the Russians dance.'
Peg: 'Cannae stand Lily Allen. She just talks shite. Attention seeking all the time. She goes on about hating diets and then goes on one herself.'
Kirsty: 'I prefer Dusty Springfield, the Ronettes, the Supremes, the older woman really.'
Peg: 'I prefer the older woman too! A few M.I.L.F.s would be great.'
I point out to Jamie, who is enthusing over The Supremes, that they are about to go into nursing homes.
Jamie: 'So? Even better! They'll be so appreciative.'
Kirsty: 'What I hate is how when a woman fronts a band, they have too much to say. It's like they've something to prove. Does your head in. Just chill out a wee bitty.'
Janine: 'Lily Allen takes the piss out of someone. Next minute they're her best pal.'
Peg: 'Puts pictures of herself crying up as her profile pic on Bebo…pure attention seeker! But obviously it works.'
So what would they put out as their first single?
Janine: 'A techno version of Rupert The Bear.'
Kirsty: 'Nah. Goujon soul would be our first single.'
I ask about the title for the song.
Kirsty: 'That was named after the guy who thought we were called Peg and the Goujons. Couldn't think of a title for the song so it's Goujon Soul.'
Peg: 'We're ready to do an album.'
And, lastly, if they were in power, who would they make Prime Minister?
'Brian Harris from Hanney with Jimmy Harris as Chancellor of the Exchequer.'