THE DRAYMIN
T BREAK STAGE, SATURDAY photo by Steve Gunn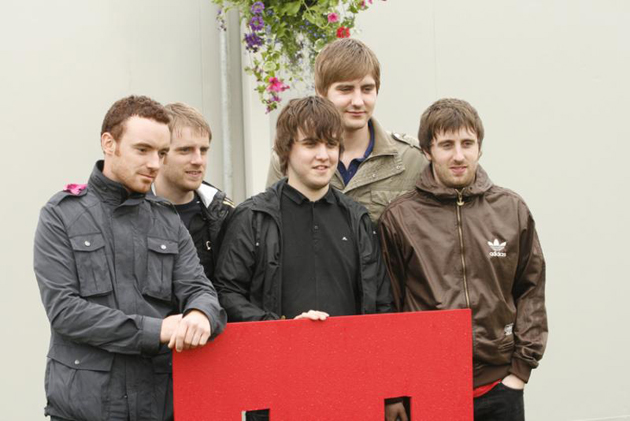 Craig: 'It all started when we built a hut in 2005. Fraser, my brother, is a joiner, so it was a purpose-built hut.'

Its purpose? To create a rehearsal studio.

'We built it in our mum and dad's back garden. We could already play instruments but knew we'd need somewhere to rehearse. Building a hut was better than paying for it. Instead, we used the electricity of mum and dad – reason why we don't live at home anymore! It started from us watching bands at T in the Park. We've been doing it since 1997, 2000. We've beentold we're similar to Kasabian and the Stone Roses. We're more dance orientated, with our bases in dance and indie rock. We rehearse 3-4 times a week.'

Craig and Fraser Penman met Gec Livingston at school and rescued drummer Gary Louch from the local Co-Op.
'We were a four piece for four to five years. Then Fraser got a new job and left for nine months. He came back with Callum Nicol as a fifth man on keyboards, stolen from another band. Callum had the ideas so the sounds changed. We began to feel a lot better about ourselves.

'We've recently played the Doghouse in Dundee and sold out P J Malloys (350 capacity) a week before T in the Park when usually everyone is staying in, saving up their finances and resources. We played at 700 capacity at the Alhambra in May this year too as well as Liverpool Sound City and The Great Escape in Brighton.'

Their first single, 'We Will Fall', produced and released by themselves is now on sale on their own website www.thedraymin.co.uk as well as all the usual download websites.