NO ENDORSEMENT NECESSARY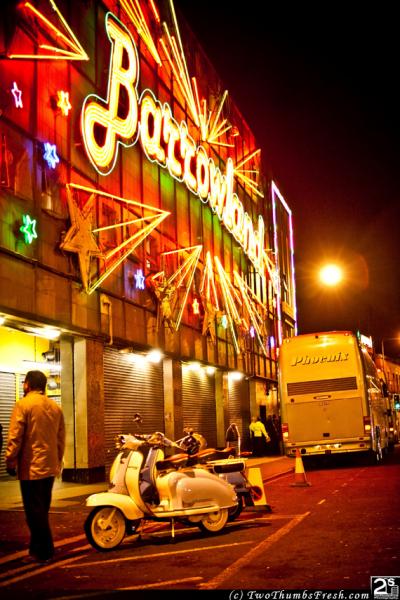 It is a Baltic steely grey-skied Glasgow Sunday. The Barrowlands is full of market stalls and grim-faced Sunday bargain shoppers lugging home carrier bags stuffed with various Christmas –related paraphernalia. But inside the Glaswegian venue is a spare threesome sitting in an empty room. It's still definitely warmer, even without a working radiator. This is Twisted Wheel – the Oldham trio (Jonny Brown, Rick Lees and Adam Clarke) who bring their own heat. I am offered a comfy chair and they don't moan too much when I ask the same old questions.

Of course, Twisted Wheel may never have been. Very easily. Tracing its real history, it probably started when Jonny used to follow Adam about at school.
Jonny: 'I knew he played drums as he had lessons in the mobile classrooms. In the terrapins.'
Adam: 'Jonny was in Year 8 and I was in Year 11. The first time he approached me, he said: 'Peace!' and I thought he was just being smarmy. I thought: 'Who the fuck's this little bastard?'
'I only did it a couple of times after that!' adds Jonny.
Rik, Jonny and Adam all attended Saddleworth High School. I mention that there aren't any bands I know of come out of Saddleworth.
'No! Barclay James Harvest!' cries Jonny.
What?
'Barclay James Harvest – a folky prog rock band.' OK, well now that's established, it is obvious why they wanted to make a mark for themselves.
Adam: 'Oldham is just a regular city. People just drink cider and spend money at Comet.'
Jonny: 'I've been into music since I was four years old. When I was six, seven, I was watching videos of bands: Led Zeppelin, The Beatles. Then Oasis came out when I was ten. Before that, all the bands I'd liked were much older. For me, secondary school was just a place to find band members, not work.'
What was your recruiting line?
'Do you like Led Zeppelin?'
Jonny did go through a few bands but nothing stuck. In 2002, at the Leeds Festival, Jonny bumped into Adam again. Between 2002 and 2007 they 'talked' about starting a band.
Adam: 'I think we did have a jam.'
Jonny and Rik joined a band called 'The Children', Adam was in a band from Leeds called 'Gentleman's Pistols' – 'a kind of Black Sabbath 70s rock band. But it got to the point where we were all sick of what we were doing.'
Jonny: 'I was also doing acoustic songs on my own like 'Strife' as the rest of the band (The Children) didn't want to do them.'
Finally, the three met up, had a couple of rehearsals, played their first gig (Adam: 'Jonny was supposed to be doing an acoustic gig at The Late Rooms. But we turned up as a full band and played 'Strife', 'You Stole The Sun', 'Weapon', 'Double Yellow Lines', and 'Racket'. The place went crazy.') and, six months later, they were signed to Columbia Records.
Why did that all happen so quickly?
Adam: 'Cuz we were selling gigs out. We gave an outlet for people who wanted to go out and have a good time Friday night. I think we knew something more was happening when we played 'In The City', a showcase venue in Manchester. Label men were standing there holding clipboards, their glasses all misted up. We just kept doing gigs and enjoying it.'
Was that the plan then?
Adam: 'It's hard to make a plan. You don't make a success plan. It makes it boring. Who wants to know what's going to happen?'
Jonny: 'We just wanted to keep doing positive things. I'm not saying a record deal is the best way to go. After signing to Columbia, we gigged for one year and then did a headline tour. We were gigging and demo'd the album. That's when we were given a list of producers. We saw that Dave Sardy had his own studio and lived in L.A. and thought – right! Let's go. '
I comment on the album's raw, uncluttered sound.
Jonny: 'I think it could have been rawer!'
What was L.A. like then?
Adam: 'To be honest, dead busy. One week I was doing all my bits, then Rik his, then Jonny so it was relentless. A local lad took us out a couple of times. We went to different bars, went to 'Space' and The Voodoo Bar which is just all black.'
Jonny: 'I went out and about loads with the guy. Just seeing different parts of L.A. meeting new people. I like that.'
Nearly a year later, the album came out this April.
Jonny: 'Having done an album now, I've more of an idea about how to get a song across. You get a better idea of what direction you want to go. I wouldn't let a label tell me.'
Adam: 'When you've gigged an album out, you know what bits in songs you don't like. You learn to make better bits. Cuz you remember it's every day of your life you'll be playing it!'
So no obstacles, no low points?
Adam: 'Just one constant high point!'
And being on the road?
Adam: 'I like being away but I like being home too.'
Jonny: 'I like the road. If I were at home all the time, I'd want to kill myself. I love meeting new people and being on the road. I'm just a travelling VIP pikey.'
Favourite cities?
Adam: 'Nottingham – lots of girls there. Brighton, London, Glasgow…all over really. Like them all. None I don't like.'
Jonny: 'I'm constantly influenced by loads of punk bands. Then there's the Beatles and the Stones, rhythm and blues bands and Bowie. Old folk music.'
That must be where his balladeering skills come from then. Any family history of songwriters?
Adam: 'His dad serenades. Does a bit of flamenco. Plays a few Spanish songs.'
Jonny: 'We went to Spain and he bought me a two thousand pound guitar from the place where they make guitars for Pac de Lucia. It's a family-owned business. My dad dragged me round for two weeks before we found it. Now it sits at home with no strings.'

I comment on how they seem to be your regular rock and roll band but then, in every song, they veer off on some random tangent which is what makes them so kick-arsey adoreable.

Adam: 'As people, we are a bit random.'
Jonny: 'I think it's more like we don't really care.'
Adam: 'I can't plan my day, let alone a career.'

And how's it feel to be supporting their influences?
Jonny: 'I think it's a brilliant thing. We're supporting people we look up to and who've influenced us. Oasis have split up now so we wouldn't have that chance again. All the bands we look up to liked us and invited us on tour. We've done everything on a shoestring. Just going for it.'

I ask for any unusual anecdotes. Jonny looks bemused. 'Antidotes? I don't think I have any of them…'
Adam explains and Jonny mumbles something about getting into trouble for telling too many of those.
Adam: 'Na! the scooter at Fuji Rocks.'
Jonny: 'Oh yeah. In Fuji Rocks, Ad and I robbed a scooter from some little Japanese fella. We just ran round on it one night. He was bowing to us when we returned it: 'Thank you! Thank you!' We tried robbing it a bit more but they'd clued on by then.'
Ad: 'Then we went on a two day bender with Ray Charles…'
My turn to look shocked and confused. Isn't he dead?
Jonny: 'No. Craig Charles.'
Adam: 'Oh yeah. Craig Charles in Jersey. At a festival, Jersey Live. Got drunk as. He's a sound guy though, Craig Charles.'
I ask about the riders.
Adam: 'Why are you interested in riders?'
I explain why and they then think I am only interviewing them for the possibility of getting free food to last me the week.
Adam: 'No. We used to ask for socks and weird stuff. Used to get some good shit on the rider.'
Isn't it a bit like having Christmas every night? Making your own wish list?
Adam: 'It all gets wasted though.'
Jonny: 'We've been touring two years now. We just have beer and water on the rider. Not fussed about the rest. We get catering though! We're more interested in going in a new direction.'
What's the new direction?
Jonny: 'Riderless. We're going back.'
Inspiration?
Jonny: 'Anything and everything that happens. Put a record on. Meet somebody.'
Adam mentions that they need to get a blackboard or whiteboard for their rehearsal room back in Diggle (Saddleworth Rehearsal rooms).
Adam: 'That's where we bang the songs out. But he writes at home.'
At the moment, straddling between tours and song-writing, they are in their own perfect position. Rick is nursing his injured hand from the relentless touring schedule (repetitive strain – says it all), Jonny is starting with the flu but they are still raring to go. Their easy grace and simple elegance cannot be feigned. Headlining bands scrabble to get their energy and reined-in powerhouse songs. After the bombast of the past fifteen years, the world is ready for such starkness.