INTERVIEW with Part2ism and Tamara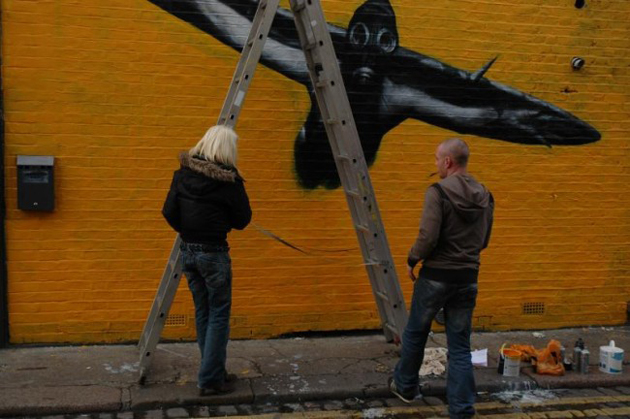 Eva Branscome: This was your first solo show in Shoreditch. Upstairs there is your work with Tamara and downstairs there are the hypertype collages. Returning to your art after a 10-year stint with the Ninja Tune recording label as a producer, in just one year your style has transformed drastically. Last spring, you were still showing the geometric hypertype work at the Leonard Street Gallery but suddenly at the Cans Respray in August there was the black and white photorealist girl with the gasmask on an egg yolk yellow background. I will argue that this was the best piece of that event. How did this change happen?

Keith Hopewell: Over the years I'd been into eroticism and tried bits in my photorealist style in the 90's but this time I wanted to come back to this in a way that pushed things to their limits. Originally I was going for a full laid down pose but word was getting out that they had more artists than space so I went for an upright pose. The vision I had was a constructivist style advert but I thought red was a bit too much USSR so went for the gold. The gas mask was from a logo I'd been using for years and I wanted it to jar with the sexual concept. It reminded me of early erotic photographic images and kept things in line with the military context of the type and war planes I was experimenting with. My work has always been about cut and paste juxtapositions.

The hypertype was a project I had the idea for while I was working with music production and just never put it into action for years. Eventually, the vision got the better of me and I put it to practice. If I was gonna return to the art game, I wanted to come at it with a different angle. So many people were doing photorealism in the graff world just then and I had developed a lot of that style nearly 15 years earlier. The cut out type just represented a new challenge. But after two years working with that and an offer to do a wall in the Leake Street tunnel, a new challenge was required.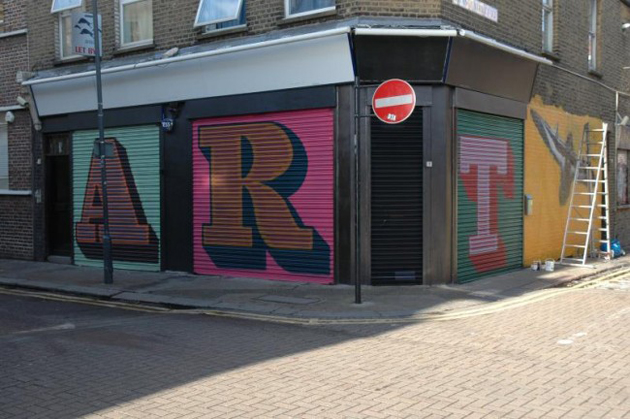 EB: Keith, you have been painting on the streets since you were 12 years old. How did you get into graffiti? Who were your inspirations?

KH: Hard to break it down to individual names really. It was the power of the New York subway trains that amazed me to be honest. A whole art house created by young people who felt the urge to just go out and create something and make the entire city stand up. At first ,I just wanted to somehow be part of this thing but, as I was growing up, it became a personal quest to try to take it beyond what they began and evolve as an artist with a vision of my own.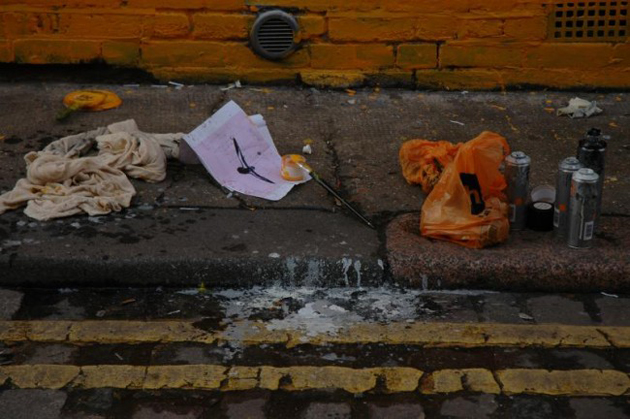 EB: I also want to know about your technique, your highly refined skill and control of the spray can. Do you ever touch the images with a brush?

KH: As far as the image is concerned, I've worked with the spray can so long now that for me it is a brush itself now. Plus, why hide from the fact its independent from what you learn in art schools? This is renegade art so let's not shy from our revolutionary practice; it's what differentiates us from all the other forms of art.
The preparation takes up the most time and then the spraying goes quick. I use car spray because when you build up the layers of the image the texture is like the old, grainy black and white films. You get the same feel. I use the spray can's original cap first. Then the details and shading I do with a home made cap. I cut off half the can lid so my finger can press the nozzle and make a new hole in front. It's sort of like a shield. I get much more control over what I'm doing. And, yeah, I use a brush these days to cut in with emulsion for the background. Wasn't something I did back in the day and I really like the way it works with the negative space. And for the gasmask lenses I use glass paint. That's perfect because it is transparent and lets the black and white image shine through without obscuring it.

EB: How has the street art scene changed over the years?

KH: It's become a commodity. And that's completely changed the whole infrastructure of the movement. It's also more divided now because there's money in it and the only reason this money's there is because a derivative of the art took it to the realms of popular culture. It's bad because, if you think the division within the movement is bad, then wait and see the division against the contemporary art world in the coming years. I think there's a lot of artists now out there who painted before this quick commodity wave came along and who I'd class as fine artists. They just weren't getting the recognition they deserved because collectors didn't care about their work. To them their art's just got to have popular market value and tick the urban art box. They'll jump ship the moment the money wave's no longer there to ride simply because they couldn't care less about this art form itself. This movement is a lot bigger than they realise but hey, next auction lot please!


EB: Your recent work is about creating interventions and making people think. Both the hypertype and the Tamaras are doing this. How do you understand the city in relation to your art.

KH: Well that's what this side of it's all about: hijacking public space. You look at what's already around you and utilise it, your intuition usually knows when it feels right. It's all about stamping your mark out there in one way or another and making people ask questions about who we are. Tamara is an advertising campaign for freedom of expression so go get your mask, become a soldier and fight! Your street needs you!


EB: Your work has a deep philosophy that underpins it. These haunting figures are angels?

KH: It's called funk! Problem is funk keeps getting saturated because more people want a piece of it than there is to go around. Then people throw it away because they never felt its magic. Its not just in the music of the James Browns and Fela Kutis of the world, it's a way of living. Everybody's an angel but not everybody's liberated. Don't fake the funk! Angels are never soulless...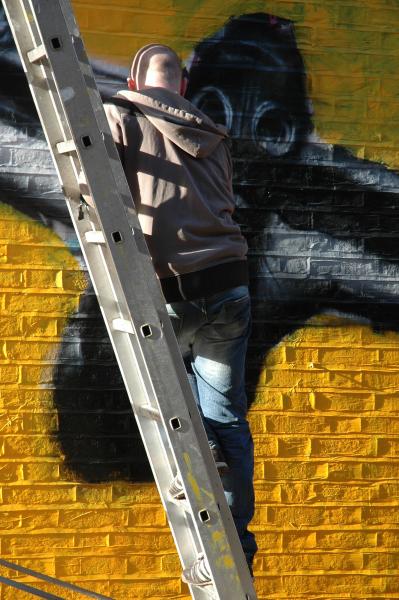 EB: Tell me about the colours. You are using a very controlled palate. The black and white figures, the primary colours.

KH: I think black and white tones have more feeling; colour gives you too much information sometimes. Simple palates have more resonance with the brain for some reason, too many colours can disorientate your perception. Nothing wrong with colour if you use it in the right way but I'm not dealing with psychedelics in the Tamara series...

EB: Tamara, you are the muse in these striking images. Where have you appeared from? What is your involvement in this collaboration?

Tamara Seabrook: Myself and Keith had known each other for a few years and were always supportive of each other's art. My own work is mainly photography, painting and ethnographic narrative. I work both sides of the camera to explore issues around sexuality, body, censorship and identity. I've actually spent very little time in the UK street art scene. I spent much more time in New York living there six months of every year over the last 4/5 years, working on my art and underground social activism with various people and also I have been involved in the aerosol culture there. I have too many influences really. I guess the most known and obvious art influences are Sophie Calle, Cindy Sherman, Ana Mendieta and Carlolee Schneeman but then I have other influences which are not from the art world but are embedded more in literature, activism, everyday life and politics. When Keith started to explore the erotic realm, it seemed natural for us that we would work together in this way. I'd also been using the gas mask in some of my images since 2006. So things just fit. We created the images together using photography and then Keith meticulously painted them.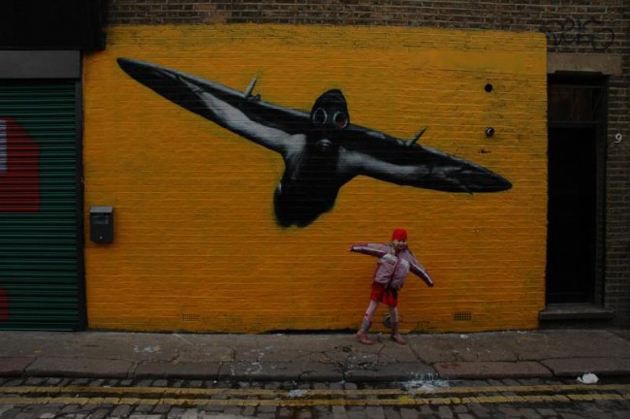 …

Artillery for Pleasure is on show at The Art Lounge in London from 6 March – 16 March 2009 with 15 large Tamara canvases upstairs and 12 smaller pieces downstairs including a limited edition print and hypertext collages.

The Art Lounge
41/43 Redchurch Street
London E2 7DJ
England

www.urbanangel.com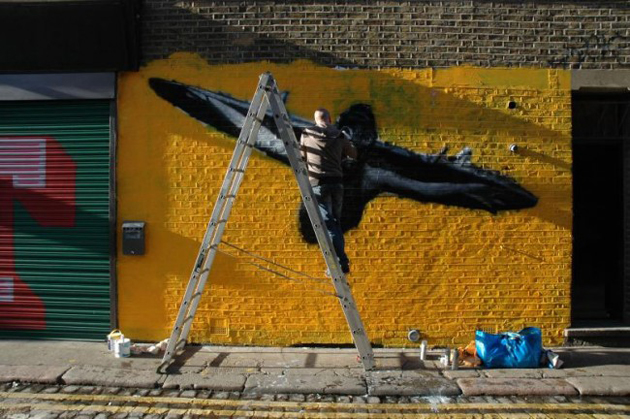 Artillery for Pleasure
In January a crucified angel soared across the street façade of the fittingly named Art Lounge of the Urban Angel Gallery of London's Shoreditch in anticipation of the current solo show that celebrates Part2ism's Tamara series.

Part2ism's work has gone through a radical shift since departing from the geometric collage hypertext installations last August. He has returned to his roots of photorealistic imagery with a fierce vengeance. But there is no reference to soppy kitsch or 3D Mad Magazine style or animation. Part2ism's new work links more clearly to Andre Breton's mad love for Jacqueline Lamba and there is also that surrealist preoccupation of the photographic nude with the gasmask. His topic is an intersection of sexuality and war and brings a new and politically critical yet mesmerizingly dreamlike quality to street art. The work is hauntingly beautiful and shocking at the same time. No one out there is doing anything like this and Part2ism has definitely moved the boundaries of the genre.

These photorealistic black and white figures that have been appearing on walls throughout London since last August create an almost otherworldly intervention into the cityscape. It is the combination of the subject matter, the setting and the highly refined technique: a confrontation of the secret and private with the public realm that seems to question the everyday of the street life and the passerby.

It is difficult to transpose any kind of street art onto a canvas and into the glitz and glamour of the gallery. There is often something lacking: the grit of the city, the adrenaline behind the can. The setting is not there to work as a dialectic in terms of subject matter and often the artistic skills just do not measure up on canvas. Not here. The spray work is immaculate, the subject matter complex. But I'm not completely convinced about the drips that act as a reminder to the street art origin. I don't think they are necessary and really Part2ism's street work is so good, there are no drips out there that I have ever seen. The gallery has been incredibly brave to include the hypertext collages that are on display in the basement. They are so important to show Part2ism's astounding transformation that has occurred in just one year and a counterpoint to the work upstairs. The best piece is definitely Sanguine 2. Tamara is really floating just behind the surface of the canvas. We can feel her slowly sinking while her hair drifts upward like tentacles that mix and mingle with the drops. And yeah, the drops work here. It all comes together.

The opening in March was a heaving success with 300 people filling the space to maximum capacity. Andrew who runs Urban Angel and the gallery tells me that the show is to finish the Tamara series, but I hope this is just the beginning.



Eva Branscome 10 March 2009