FAITHLESS MAIN STAGE FRIDAY NIGHT 8.25PM
photos by Steve Gunn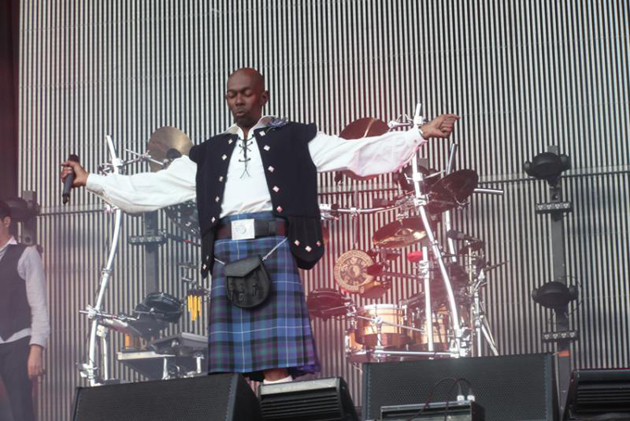 As soon as the first chords start up from Sister Bliss, I get The Shiver. Dance music, how it started and the politics it embodies are all encapsulated in Faithless. The band are one of the best examples and reasons why we should look after our true artists and let them grow. Still visionary, still performing high quality, spine-tingling dance tracks, still intent and loving sharing an experience with an audience. It's easy to keep faith in Faithless.

Producer and guitarist, Rollo, and vocalist Maxi D enter, Maxi D wearing a blue kilt, sporran, white blouse and back waistcoat which totally suits him. I remember being on somebody's shoulders at a Faithless show at a V Festival in Stafford 2006 and being blown away but this was nothing compared to tonight's show.

'Yeah, T in the Park, man. Can't believe left it so long. You're looking good as ever. T in the Park, big up yourself.'

Faithless provide a non-chemically induced altered state of consciousness by their articulation of escapism and the transcendent. 'Mass Destruction' begins the adventure into Faithless' tracks with Maxi D affirming, during 'Sun To Me' that 'Everybody at T in the Park is the sun to me.'

Nearly twenty years on and there are still the sniffs of those history –changing outdoor illegal raves. For those of us who can remember, this here now – Faithless at T in the Park – was our vision back then, our dream: a new democracy held by music, love and the open air, activated by the energy and dreams of the dispossessed.

'This,' and Maxi D emphasizes the pronoun with his arms spread out, encompassing all of T in the Park. 'This is my church!' he proclaims in the phenomenal 'God is a DJ'.

As he states,' How many years to be talking about this church.' And now, in the simple presence of its fact, it seems ridiculously easy. Probably the thirteen year olds at the front don't fully understand the massive beam on his face, putting it down to chemicals, but the older ones know. Ridiculously easy it may appear but it wasn't. Maxi D then introduces us to Harry who has an awesome aching voice and leads the song 'Feel The Pain.'

'You lot are incredible. Thank you, thank you. Respect to all of you, man.' And then Maxi leads us into the theme track of a generation: Insomnia.
'This tune is for you.'
The audience are transported, as ever with Faithless, to that place of space, freedom and energized harmony, articulating an everyday event in a way which makes it transcendent. How the bad maintain such an intense and energized show for son long is incredible, constantly raising the level with each successive tune like the ultimate dj set.