FUNK WITHOUT THE MOSQUITOES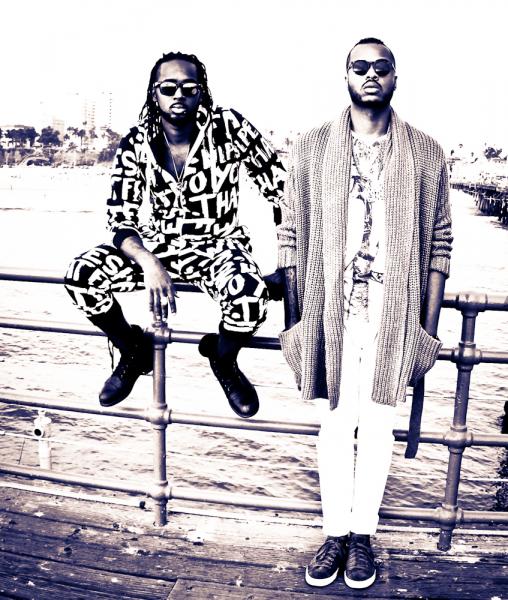 GET YOUR FEET IN THE DIRT! - WEAPONS OF CHOICE, LOS ANGELES
I'm in the wooden-floored narrow bar of Libertine, 8210 W. Sunset Blvd., wondering why a white guy in a fez is geting excited and jumping about on the floor amidst a sea of technicians, sound and film crew. He's John Anderson, CEO of Hunnypot Radio, the taste-making machine of Los Angeles and he's here to interview live Weapons of Audio, an unusual funk/electro/hip hop band from Atlanta and to broadcast a unique acoustic session. I'm here because a Diesel sales assistant raved about them and because I love driving down Sunset Blvd. It's my favourite L.A. experience: you see everything, you hear everything. Just like this band.
The cd version of 'Night Light' is played - an exotic, seductive riff of a song made for parties and the crowd seems to agree. This is followed by the first acoustic, 'Boulevard'. Weapons of Audio are two brothers from Atlanta. Jeremy, the long-dreaded guitarist who sings a Prince-like contralto to brother Floyd's bass lyrics and rap, introduces it: 'It's just about a typical boulevard, any girl out chasing males.' It's a fun, melodic, upbeat song and nobody's expecting them to stop so they run into the next one, 'Top Down', a pure Cali song with melodies, harmonies and Jeremy's Smokey Robinson vocals, a rocking guitar and Floyd's gritty deep flow. The infectious and hilarious 'If You Want Me' follows, an unbeatable relentless promise which showcases Floyd's rap skills and his deep vocals to contrast with Jeremy's Smokey Prince.
The crowd are totally enamoured and cheering but this is just a prelude and barely a sample of what's to come Wednesday night at The Viper Room (password SUPERDOPE if you want to get in) where the full-on, rock-out electronic rush of their set will be unleashed.
Their unassuming acoustic set is effortless and without the bravado I'm used to seeing. I can't remember experiencing funk, rap and rock so smoothly grafted together, unweighted by names or samples. It's a blast of fresh rhythm, soul and melody.
But are they for real? Who exactly are Weapons of Audio?
Floyd and Jeremy Daniels were born in Charlotte, North Carolina and relocated to Atlanta, Georgia in 2005
Floyd: We were brought up in a really musical family. Our mother played in a '70s funk band, also she sang lots of gospel music in the church. We used to go to all her rehearsals and then have to get up and go to school the next day so we were kind of drafted into the rockstar life. Our father was more of a music connoissieur - he was into everything: Steely Dan, a lot of jazz. He loved Jimi Hendrix and hip hop: Gangstarr, Digital Underground - ha! The Humpty Dance. I used to play his Big Daddy Kane records. When I started hearing the words and working out the lyrics, I began myself. My older sister was a rapper and singer who almost got signed so she taught me some skills too.
Jeremy: I was really into rock and rhythm and blues so in 2005 Floyd bought me a guitar for my graduation. I picked it up and started to play. I was more into blues.
Floyd: I was into hip hop and electro, funk and soul.
Jeremy: We really had no formula, just doing it for fun, whenever we had inspirations.
Floyd: it was more like a release and stuff.
Jeremy: I liked the rawness of the talent of blues. You get all of the distortion from the guitars, all the sonics were pure talent. Plus, they contained all my history as a black American, all the feeling and deep content.
Floyd: Hip hop came into my life seriously through basketball. I used to play for the AAU and would listen to Wu Tang and Outkast to get amped before the basketball game. I needed it. Freestyling them came next and soon I stopped doing basketball to focus on rapping. I became a backpacker and tagger.
Jeremy: I used to breakdance and pop a lot. Michael Jackson started me into dancing. I'd hear a beat and just go. Blues is simple but powerful. The lyrics aren't flex but the way a blues player puts it through the feeling, the music - that's what I wanted to do.
Floyd: We got a lot of inspiration from Cameo (80s funk outfit).
I look dumb and uninitiated so they explain.
Floyd: Cameo is a funk alternative genre. he rapped, did rock and roll.
Jeremy: Cameo was one of the first genre-bending bands- Late 70s, early 80s. 'Single Life' and 'Stage'. It was around the George Clinton/Parliament era but taking it to another level.
Floyd: It took a while for me to be convinced by Jeremy for us to properly become a band. I was resistant as I'd been in bands that had broken up before and I was worried it'd affect our brother-to-brother relationship. But then J said,'We've been together all our lives, it's not going to fuck up our relationship.'
Jeremy: So that was it - 2007 onwards our home was at Star Bar - a gritty, dirty rock and roll venue just down the street from our house in Little Five Points, Atlanta - a bohemian community. You know, lots of artists, activists, vegan grocery stores. The owner of Star Bar was a fan so we took full advantage and just rocked out there - the usual sex, drugs and rock and roll life for three years, our claim to fame, our preparation ground.
Floyd: We played every venue in Atlanta. Our aim was to become a part of the culture there. We wanted people to know we loved Atlanta and honoured our heritage. So many musical giants hail from that city: Outkast, Cee-lo, James Brown, Jamie Foxx, Ray Charles, Gladys Knight and the Pips...too many.
Jeremy: There must be something in the water! It's part of the chitlin circuit - you know the chitlin circuit, right? Mississippi, Memphis, Atlanta...
Floyd: Back then, we were called 'Futureshock' and Atlanta appreciated us. Then we headed to New York City to do some shows and network. We were going to relocate to Williamsburg, Brooklyn but then we met our new manager and he said,'Try L.A. first.'
Jeremy: That was it. We gave all our possessions away from the place we shared in Atlanta, packed up the car and drove all the way to California. One day with one night in Oklahoma.
Floyd: We've got a lot of Native American Indian heritage in us so Oklahoma kinda felt like home. The worst part was when we nearly ran out of gas in Texas. It was this endless, dark street, the loneliest street in the world.
Running on empty on Lonely Street. Sounds like a song.
Jeremy: Well, it was scary. Our cellphones had no signal, there was no gas and the empty light came on. We just had to pray and then - bam! A gas station right in the middle of nowhere. We've never been so relieved!
What was the first thing you noticed about L.A.?
Jeremy: No mosquitoes. On the east coast, they're lethal. Big rats just flying in the air.
So why do you think Weapons of Audio is so important to the world?
Jeremy: I think we're something new and something old, something that feels good. The music industry has these models of what they think will sell but what we are is a result of blessing after blessing.
Floyd: There's a lot of aspects in life you can talk about through music. The way the world is, the miracles of the everyday.
Jeremy: Get off Facebook, TWitter.
Jeremy and Floyd: Get your feet in the dirt!
Jeremy: Go for a hike. Go to the sea, do something. Experience life.
Floyd: Music should bring chills down your spine.
Jeremy: We're bringing vibrations that our generation has missed out on.
Are there some current artists that you rate?
Jeremy: Kanye West - he brought hip hop back - the art, the videos.
Floyd: He is our Michael Jackson.
Jeremy: I don't know anyone doing the spectacular before Kanye. Although I rate Lady Gaga now. I was unsure but now I think she's fearless. her talent is raw but she can do so much with it. She brought on Jimmy Paige. I mean, come on!
Floyd: I like Santigold, love dubstep. I like when people bring out new stuff, new ways of hearing music. I think there's a lot of good music on the underground. Then again we love The Red Hot Chili Peppers.
Jeremy: Chromeo. Honestly, we listen to A LOT of funk.
Floyd: MGMT, Florence and the Machine, Miike Snow, Journey, Eric Clapton..
Jeremy: Sonny Boy Williamson - the best harmonica player ever, Jimi Hendrix, Neon Indian...
And to sum up Weapons of Audio?
Jeremy: We are just inspired and inspirational.
Floyd: Whatever we are feeling at the time, that's what we are open to - all of life and inspiration.