">LOLA - SO NOT A SHOW-GIRL
How a wee Scottish lass has been painting up a celebrated storm in acrylics and old schooldesks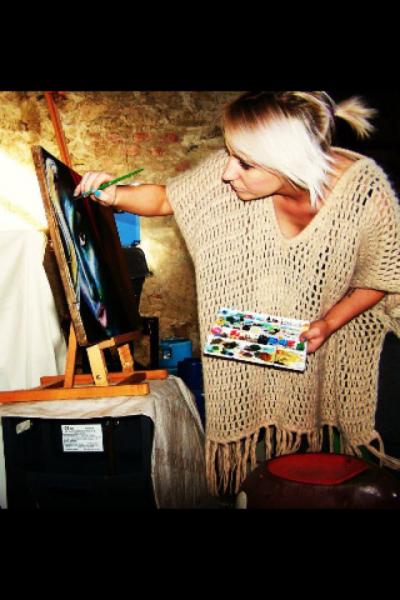 Lola Nicol, the enigmatic artist located by the sea beyond the Scottish Highlands, has been colouring up Facebook in recent months with her dark, haunting versions of beloved rock and filmstars. So what? Plenty of people paint canvases of the famous, capitalising off the public's adoration. However, what makes Lola's so unusual is the emotional depth and interpretation of mood-transferring her own literally onto the subject itself - which is, of course, what we all do. The star becomes nothing less than a projection of our own soul. We don't see the truth of them; we see our own dreams. Still, Lola's creations of intimacy have reached a younger, more diverse and international audience than she ever anticipated.
The twenty four year old diminutive brunette grew up in Torphicken, a small village outside Bathgate, West Lothian. Always fascinated by art as a child, she watched her mum dabble in watercolour and came from a creative family with a singer for a sister.
'I found inspiration from music from an early age. Dad was a big Beatles fan. I remember at the age of 12 getting into bands like Nirvana. Then the Strokes emerged with 'This is It' and that was it. My passion for live music really began.
'I studied art at Bathgate Academy - largely because it was pretty much the only lesson I did enjoy. I realised if I dropped Advanced Higher English and Philosophy so I'd have half my school hours free along with my regular art classes and an Art/Music module I had enrolled in. I was pushed in the direction of art school to study fashion and textiles - not something I had a great interest in at the time.
'Art college was never an option for me after I left high school. I had massive confidence issues and struggled to get my head around the idea of moving to a different town, meeting new people and putting myself out there to be told I wasn't good enough. Looking back, I think I made the right decision. I know there's a lot that I could learn that would help me along the way but I don't like the idea of being greatly influenced in such a way that I didn't end up doing what I love to do now, creating the sort of pieces I am now. I'd love to study history of art - that's one thing I feel I'm lacking from no uni.
'I didn't think I was talented enough to pursue art as a living so left school for a full-time job in an office. I was in and out of office jobs for seven years before really picking up my paintbrushes again.'
What prompted that was the intense loneliness and depression working a nine-to-five office job in a big city. 'I found myself spending a lot of time on my own and that's when I realised I wasn't in a good place and had to make a pretty big lifestyle change to get myself out of what seemed a miserable dead end.'
Lola relocated to Brora, a tiny sea resort on the most north easterly coast tip of Scotland, beyond the Highlands near to family but far from the bright lights of any city.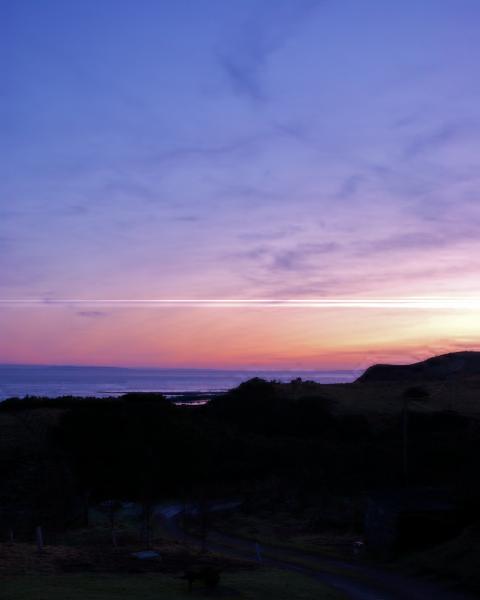 'I was without a job and pretty down. I decided to paint to fill some time after a suggestion from a friend who I had initially painted my first new piece for. That was just a big to get guest list to regular gigs in my favourite Glasgow music venue! This painting, however, was my 'Lana del Rey' piece which has turned out to be my most important to date. I doubt she'll ever be sold now. I have promised my pal another one at some point!'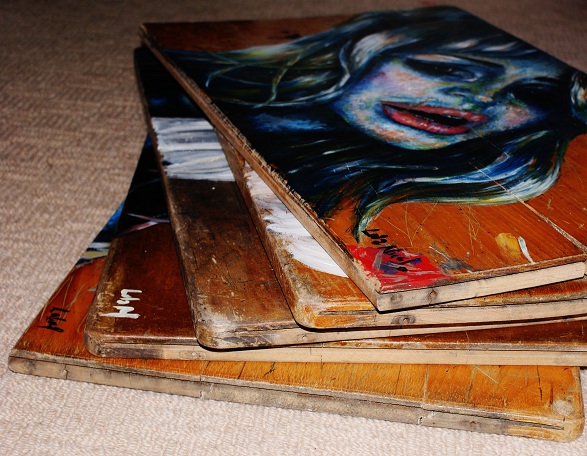 Lola still makes regular trips to the city. 'But being up here I have so much space and time to work on my pieces. My time is my own and I have no distractions. The time it takes for me to do a piece varies. Sometimes I'll fly through one and really apply myself. My smaller pieces can be done in days, my larger ones can take weeks. I'm working a full-time job at the minute for initial funding so I paint when I can which usually means a lot of late nights and long weekends.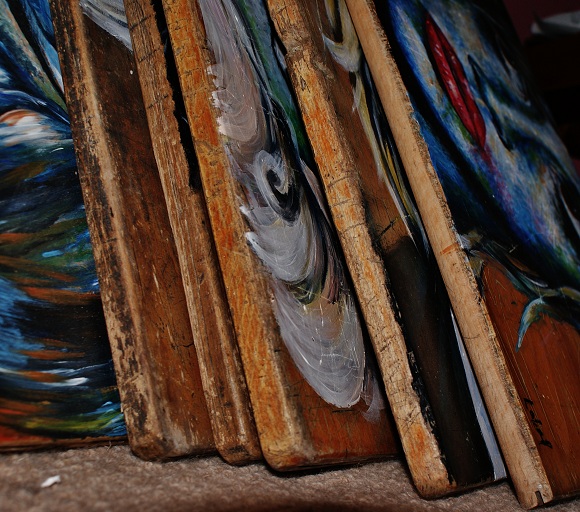 'I work solely with acrylic, on wood - generally reclaimed pieces if I can get my hands on them. I'm not a massive fan of textured canvas anyway and I hate working on a blank canvas. I think worn/cracked surfaces really add to the subjects that I am painting and I guess must add to their appeal. I'm very much into recycling now - from my canvas to my packaging. It's something I'd like to get more involved in.'
Lola does not have an extensive toolbox and studio. Instead, her essential materials consist of a piece of wood, a handful of colours and one paintbrush.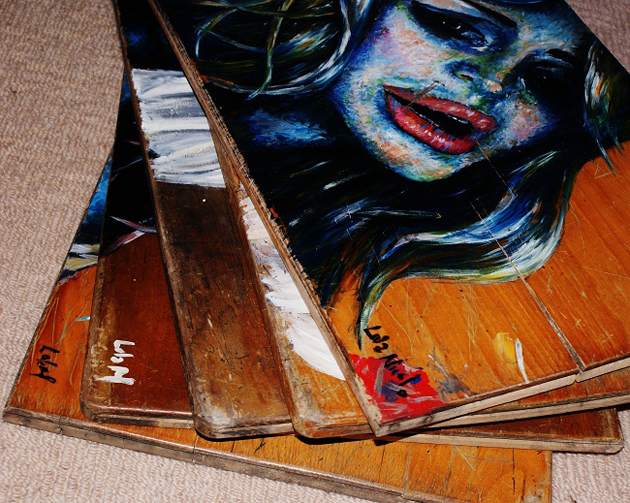 'At the moment, that is it. I always use the same brush whatever piece I paint. I'm usually distraught if it goes missing. I always need baby wipes by my side too as I clean my brush after almost every stroke.'
Lola's paintings have a trademark darkness to them, using colour and light in an unusual way to reveal aspects and moods beyond the subject itself. Is this conscious, a taught technique, something developed or something instinctive?
'Instinctive. I was in a very low place when I moved and feel that a lot of this emotion has fuelled a big part of what I've created in regards to colour choice. I usually paint in a dark place, under spotlight or candlelight which has a huge effect on how I pick up light and shade creating very melancholic images.'
Since last summer, Lola has been overwhelmed by the response to her paintings. 'A lot of people have asked me when and where I will be exhibiting but I've been so busy that I haven't got round to finishing my first collection. It's something I plan to do in the next few months if time allows.'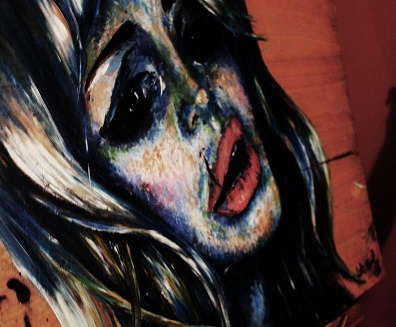 The catalyst for Lola's 'fame' as a celebrity portrait artist came from the 'Lana del Rey' situation. 'At the time I painted Lana, she wasn't extremely well-known and it was genuinely by chance that she happened to come across the piece. I had uploaded a photo of my painting on Facebook which my friend Annie had tagged her in. Very quickly, I received >messages from both Lana, praising the piece, and her manager, asking how he could access more of my work. He suggested I travel down to Glasgow for her small Oran Mor gig. By coincidence, she knew a couple of people I knew so we met after the gig and arranged that, although I wouldn't be able to let the original go, I would gift her the first print of the limited edition piece.'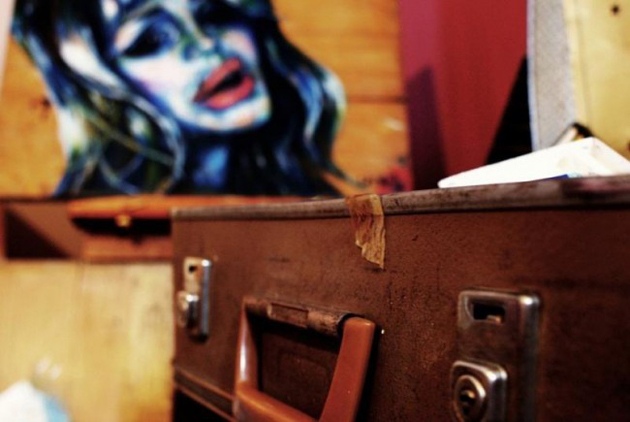 Lola admires Andy Warhol, Salvador Dali and Tracey Emin but is inspired by Scotland. 'I live in the most beautiful part by the coast. When I open my curtains and look out onto the sea, it's difficult not to be inspired, even on a rough day. I left a huge part of my life back in Glasgow; the loss of some of my dearest friends and haunts and the reasons why I felt I had to leave affect the way I paint.'
So which people make the most fascinating and satisfying subjects? What's this attraction to celebrity?
'I'm fascinated by tainted beauty - working on someone beautiful but incorporating an aspect of loss or distress such as my takes on Winehouse or del Rey. Working on the classics such as Jim Morrison or Johnny Cash excite me. I could paint Morrison a million times over.'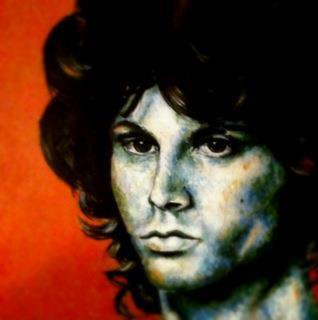 Lola is unique in her acknowledgement of the projection of ideas and myths onto a person which makes them a celebrity and it is her candid interpretation which brings these paintings to life. 'I'm very interested in celebrity. My collection had initially revolved around fallen stars. Tainted by the music/film/modelling industry which I feel is very in-keeping with my style and the old, worn canvases that I use. This fuelled a large number of celebrity-related commissions which luckily have been people I myself am interested in. I have tried some other pieces which I hope to use in a later collection and have worked on EP artwork for Edinburgh band, The Merrylees, which , although painted in very much the same style, is of a completely different nature.'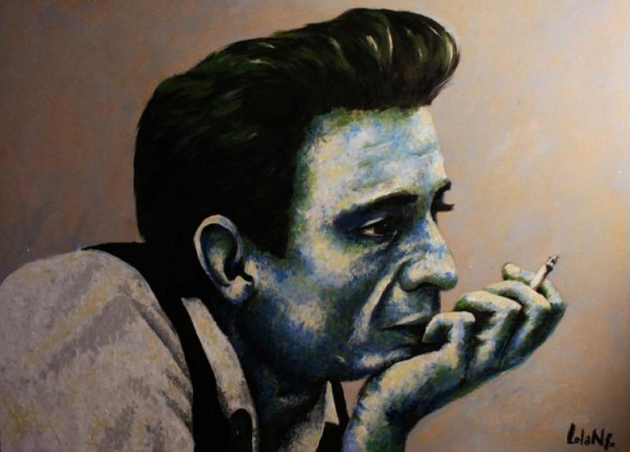 What about negative criticism? And what's it like being a self-employed artist, just starting out, in recession-rut 2012?
'I've not had negative criticism so far. I guess I can expect some; I'm sure everyone comes across criticism at some point. I love working for myself, earning money doing something I love and I guess the downsides will come if and when people become disinterested in my work or I can't continue to fund myself on sales alone. It's a bridge I'm willing to cross when I get to it. Luckily, I have a lot of support from friends and family to help me through any difficult stages. I'd love to travel and work in different locations and being self- employed gives me the freedom to do that.'
Her work is seriously popular - not just for art boffins. But why does she succeed in capturing the attentions and finances of younger people - not just art boffins?
'Facebook has played a huge part in exposing my work, making it a lot more accessible to younger people or people who would never have thought to purchase an original piece of art work.
I've also had some amazing support from people in the music scene, which I guess goes hand in hand with the subjects that I have painted recently. Bands such as Kassidy, who have some prints and one-off pieces, have been a huge help by sharing my work, as well as The Imagineers and The Stagger Rats who have very kindly promoted my work on Facebook and Twitter. As the live music scene and its influence on young people today is bigger than ever, I can't put a price on how much I appreciate the support from these guys.
I'm a huge supporter of all of these bands and it's such an honour to know they support me in the same way and help me to get my work out there.'
http://lolanicol.webs.com/