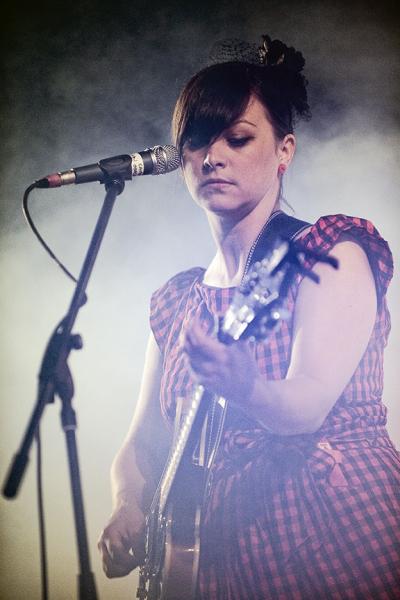 CAMERA OBSCURA

I can't remember last when heartache had sounded so intoxicating. Camera Obscura are the epitome of bittersweet rapture – encompassing the sweet desperation of love and life in their roaring reverbed songs. Lovesickness is not supposed to make you want to dance, cry, hug monkeys and swoon – all at once. But that's the effect Camera Obscura have.

For over ten years, the honeyed voice and melodies of Traceyanne Campbell and Gavin Dunbar have been trying to find a home through a gamut of band members but their perseverance has paid off. Touring the world and the production of Jari Haapalainen has reaped arguably their finest album to date: 'My Maudlin Career'. What an oxymoron.

'French Navy' follows the splendour of first love and how it disappears as you try to hold and control it. 'Away With Murder' is about the agony of a beautiful friend's despair and the responsibility you feel for not stopping it. 'Swans' is just pure euphoria! With the simple cadences of a nursery rhyme and a glorious energy, it describes the grace felt on being in love, the fear, confusion and nauseating, over-riding belief in the impossible in the most wonderful way. It's the song for 2009's maudlin career of a year – This must be be year Camera Obscura were born for as it is the sweet surge of irrepressible creativity, the non-stop of love, over the most dismal of circumstances. Camera Obscura are to our broke depressed soggy butts what Lloyd Cole and the Commotions were to Thatcher's repressed Britain, what Oasis were to Major's dry greyness. Camera Obscura are the antidote. Take immediately in huge doses and refer to your doctor if symptoms persist.

What is a Camera Obscura?

Go into a very dark room on a bright day. Make a small hole in a window cover and look at the opposite wall. What do you see? Magic! There in full colour and movement will be the world outside the window – upside down! All the bad things come out good and all the good things come out bad.

Camera Obscura are: Tracyanne Campbell (guitar, vocals), Carey Lander (piano, organ, vocals), Kenny McKeeve (guitar, mandolin, harmonica, vocals), Gavin Dunbar (bass), and Lee Thomson (drums).

We caught up with Tracey Anne Campbell and Carey………. At T in the Park.

Q. What made you form a band?
Tracyanne: I went to college because that's what you're supposed to do if you don't want a job. But my passion was music. I was doing a sound and video recording course which made it seem easier as I met a lot of people there who were interested in music. I met somebody who was very outgoing and could help me start a band: John Henderson. We gathered other bandmates. I started writing some lyrics and then developing melodies. It was a bit of both. I would write words and wonder what to do with them. I learnt how to play a guitar. Between us, we taught each other how to write songs. It was hard work back then, more contrived than what it is now.

Q. Describe your earliest sound and how/why it changed? How does influence/inspiration work for you?

Tracyanne: My first influences were my grandmother's and mum's record collections including U La Tengo and The Pastilles, The Velvet Underground. I guess that's what I wanted to sound like at the start. I thought that was the be all and end all. But your initial influences don't stay with you ten years later. It was very obvious when we first started who our influences were. They are important though as they are a starting point. But your sound changes as you change as a person. You join a band, you grow because everyone has different influences. Ultimately, the influences disappear into you – you don't focus on emulation; you focus on expressing yourself and the people who are making the music with you.

Carey: You accumulate more influences. You just get better at what you're doing. Before, you needed someone else's structure and technique but, after a while, you get your own.

Q: It was a bold move, putting out your first album, 'Biggest Bluest Hi Fi.' How did that come about and how did your connection with John Peel happen?
Tracey Anne: A small independent record label in Glasgow put it out. John Peel always played our demos. I don't think he found us remarkable; I think he just liked us. He was just a sincere music lover, just interested in hearing a good tune by a band that had some kind of integrity to them. We were a bit overwhelmed at first, more embarrassed than anything else.
Q: Who came up with the title for the second album: 'Underachievers Please Try Harder'?
Tracyanne: Myself and John. We were having a joke about how people were perceiving us. It was our way of saying: 'Fuck you!' Just because you start a band and make a record, it doesn't mean people have to automatically like you. There's so much choice out there. It's not a business plan.

Q: How did the third Peel session and the putting Robert Burns poems to music project happen?
Tracyanne: John Peel nstigated it. He started to do a Burns night to celebrate Robert Burns. I think his grandmother or mum was from Glasgow and he always felt an affinity with Scots. He felt Robert Burns was a rock 'n' roll poet. Before, Belle and Sebastian had done some poems to music. So he invited us to Peel Acres in Suffolk and told us to do as many poems as possible. At first, I was horrified. I felt 'I can't do anything.' Then we got six songs: Kenny wrote one, Gavin wrote one and I wrote four. John Peel made me feel like you can be challenged by other people to do something else, something beyond yourself. Creativity – I learnt through that whole experience that it's not all about you. And it was a great exercise in songwriting. He invited us for a Burns supper in Suffolk which was great!

Q: How did you and Jari Haapalainen come to hook up? Describe the connection and process. How was it different to previous productions?
Tracyanne: We met him in 2004. We wanted a record producer. We didn't have representation in the UK. We were signed to a Spanish record label so we started asking people: 'What do you think about this?'

Steven Pastille suggested Jari Haapalainen. I had enjoyed The Concretes' album and saw them perform in Stockholm. Jari had produced their album and I liked it. We met and talked a lot. It was very healthy. We already had elements of reverb and Motown but what Jari did was took these and emphasised what we were actually doing. He brought it out of us and did it properly. What Jari did was produce us and we'd never been produced before. Jari was very hands-on. He did a lot of pre-production work. He worked with us and listened to our previous records. He thought we were middle-of-the-road in our expression, kind of sitting on the fence. He made us be a bit braver, forced us to have more commitment in our songs and emotions. The first album he did with us was probably 60-40 and this last album was more equal. We were more comfortable and bolder. We knew what he was about.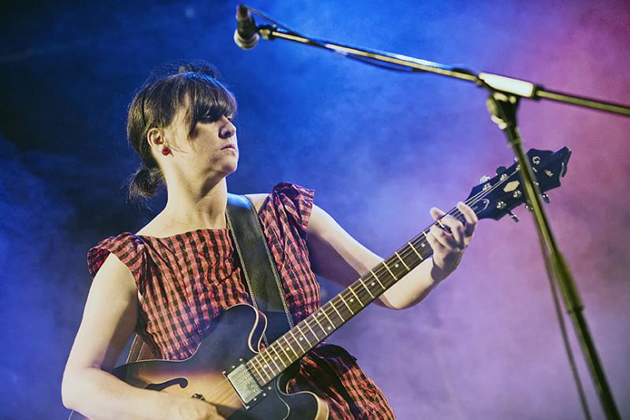 Q: Your career has been different to the stereoptypical route for rock bands. How has not having record company pressure and a high media profile affected you?
Tracyanne: We've done three coast to coast tours. We're now onto our fourth. We've done South by South West (SXSW – the big US music conference/showcase) twice. This is now our seventh tour to the States. We toured in the USA before we got to tour UK or did festivals. They like us in the USA. Even when we were on Elephant, our albums were placed there through Merge Records so we've had a presence in the States since 'Underachievers.' We've never had a media buzz – in fact, the complete opposite. We've played to 1400 in New York City or Mexico City yet we have only just started to play out the Barrowlands.

I suggest that this may have shielded them from a more hot-housed, shorter career.
Tracyanne: I think so. I think we've just been lucky.

Nah, it's more than luck. They are a canny group who have been very protective over their songs in a culture where most musicians sell, artistically and commercially, to the most expedient bidder. They have a commitment to their own artistic vision and have carved out their own trajectory, regardless of what has been happening around them. Their songs have a distinct texture which only comes from experience and work. Camera Obscura are definitely not a scenester band – 'that's never going to happen for us.'

Tracyanne: Even if it was to happen for us now, it wouldn't affect us. All those people who have supported us for ten years know what we are about, we know what we're about so we feel safe.


During the course of the interview, as we sit out on the grass basking in the rare Scottish sunshine and cloudless sky, a bee decides to visit Carey's floral dress. Honeyed vocals, honey sweet girls, outside on the grass what's not for a bee to like? And bees are rare to find these days - we need bees in order to survive as they are the creators of sweetness and life. Carey resisted swatting it and let it stay, despite a slight fear. Much like Camera Obscura – a fragile, beautiful necessity, a rare breed. Keep making the honey.

REVIEW OF GIG
Red Bull Futures Stage has just seen the energetic Vagabond play but within five minutes, the huge tent fills with a telling spread of devoted fans and new listeners. The set opens with 'My Maudlin Career' amidst one fan screaming 'Eighties fan!' rather randomly. The upbeat 'Honey In the Sun' is clear as glass and the next two, 'Let's Get Out of This Country' and 'French Navy' see the crowd dancing before singing along to the favourite 'Lloyd, I'm Ready to be Heartbroken' . The set ends far too quickly with 'If looks could kill' and 'Rose'. It is strange to feel so soothed by tunes that time passes so quick. The band are too cool for school and their graceful performance belies the craft they have worked out for themselves. Camera Obscura – a new way of seeing things in a dark world.