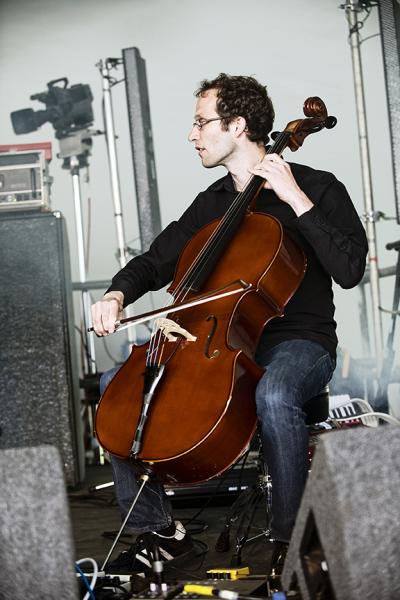 BROKEN RECORDS

Are: Andy Keeney (drums), Ian Turnbull (guitar), Jamie Sutherland (singer and guitar), David Fothergill (bass), Arne Kolb (cello), Dave Smith (piano), and Rory Sutherland (violin). Managed by Grant Dickson of Two Thumbs Management.

Album: 'Until The Earth Begins To Part' on 4AD Records

Edinburgh –based

Q. How did Broken Records start?
Andy: Jamie used to knock about doing acoustic songs. Myself, Dave, Andy and Jamie all went to St. Andrew's. We all got together as a seven piece band in December 2006 writing original music. Before that, we'd been doing covers. At first, we just practiced in the kitchen! We just had two practices and then played our first gig in Bannerman's, which must be the smallest stage in the world. At that point, we had six songs. Gradually, over two months, we worked up from there and got to play the T Break stage in 2007.

Q. What made you carry on?
Ian: Everyone played such different things. We finally had something interesting to play. There was just a really good feeling about what we were doing. We gelled together very well which made us feel we probably should keep going. Finally, in January 2009, we recorded our album at Monnow Valley studio in Monmouth, Wales. It took three weeks to put an album together.
Andy: We were living in the studios and had no distractions: just get up, have your breakfast and start playing. We had long days. Our producer was Ian Caple and our aim was to try and capture the live sound as much as possible. Previously, that had been hard for us as we had so many people playing at any one time. We would just hear a block of instruments. Having Ian produce it helped stop the clutter, made it more streamlined as it was rather like a mini orchestra. We were able to listen back. When you're playing live, you don't hear everything. Our songwriting improved and evolved as a result.

Jamie does the lyrics. Sometimes we have a clue what he's singing about but most days I don't know what he's singing at all! Our best gig was at Hogmanay. We played outside at the Princes St. Gardens in Edinburgh on Waverley Bridge. It was freezing cold. We had our coats and gloves on until we got on stage and then it warmed up. It was just amazing to play in front of an Edinburgh Hogmanay crowd in our own city. It was a great end to a great year.

The name Broken Records came about from Jamie when we started writing our own songs and we had this idea of doing a collective together but it never worked out; we just ended up doing our own things. So Broken Records became the band. We thought it sounded a bit musical and gave us a solid identity.

We just want to keep doing this: to tour and record. It was great to have 4AD sign us. They tend to favour bands with some musical integrity, album bands, rather than single or scenester bands.

Ian: My favourite song is 'The Promise'.
Andy: My favourite is the fast one cuz I'm the drummer! It's called 'A Good Reason'.


Later, they take to the BBC Introducing Stage and their Waterboys-meets-Arcade-Fire sounds assault a full crowd of delighted dancers. For this is music you can dance and feel to – maybe not singalong with. It is a surge of sound which somehow makes all the different instruments as one. 'The Promise' (next single) takes your breath away but my favourite was the fourth song – a mix of Captain Pugwash and a ballad with its bagpipes and irreverent tune. 'The Belief' finds a furious violinist and the proof of their ultimate musicality when they all, to a mini demi nanosecond finish on the same beat. The sixth song is a sad sweet lover's song. Typically Scottish, they attract a wised-up full-throttle crowd which seem to know these unpredictable songs off by heart. Broken Records are a welcome breath of fresh air from times and places beyond the ones around us.