IT'S GOOD TO HEAR AN ELEGANT ROAR
By Nina Bhadreshwar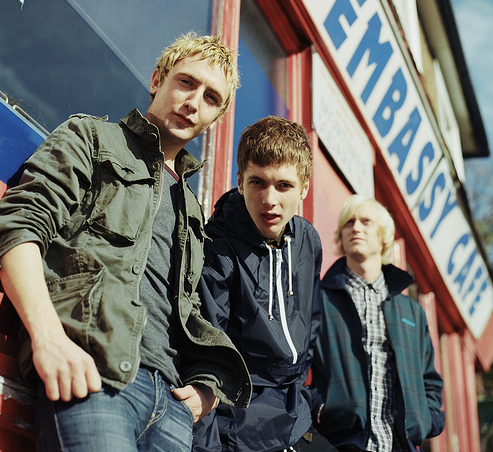 REVIEW OF DEBUT ALBUM OF TWISTED WHEEL: 'TWISTED WHEEL'

The arrival of the three piece 'Twisted Wheel' is rather like the arrival of a strange machine; you are not quite sure how it works, but it works well. There's a bit of fear too – what will happen when they let go, when the throttle is flat to the floor, the chains are off? It's not that rock 'n' roll has got saggy exactly but maybe it's a bit tired. Maybe it's forgotten where it came from, who it's for, what it's for. Well, let Twisted Wheel reintroduce you to the fundamentals in their pitiless, full-on songs.

A real song is one that makes you smell, feel the place it was born. It's simultaneously as familiar and remote as your first crush and this album is packed with them.

'Lucy The Castle' is a remorseless stramarsh. Lead singer Jonny Brown spits out a furore of lyrics like a baby Weller but with the intonation of an older, earthed-in Mancunian Daltry. It uses the rhythms of the Ramones' lesser-known tunes and seventies' punk to form a gem of an adoration anthem. It's admittedly the one which rips up the floor at an early stage in their live sets.

But it's just a precursor for the already legendary 'She's A Weapon'. The song hurtles through a gamut of intense minor chords before ripping itself to rags in a mod-meets-rock bridge. It's the beautiful bare bones of these songs which makes them unusual. While others aim at vacillation and vagueness for mystery, it's the sharp shadows and echoes of Twisted Wheel's crystal clear sounds and the graceful brutal architecture of these tunes which haunt and intimidate. There's a stark symmetry in each. 'We were talking in the garden, we were talking in the sea, we were talking in the city…I just have one thing to say: What's your name?...It was dark now it is light'('What's Your name?) Stripped down to the bare knuckles of tightly coiled emotion, they are concentrated capsules of an intense vigour of thought and feeling few young bands can articulate.

Brown's lyrics are sharp, witty and complex – all the more astonishing confined into such instinctive nuggets. 'We Are Us' is a journey through any post-industrial wasteland, the roar of defiance echoing over the rift between the new mod/punk and the clumsy sleepy rock which tried to fill in the gaps of Oasis. Austere and lean production is what such rare songs deserve.

The sardonic snarl of 'Oh what have you done, you dirty rock 'n' roller?' over taut mauling riffs is more infectious than a relentless 'Rock'n'Roll Radio' ('Oh what have you done?) and 'You Stole The Sun' is a hilarious, ridiculous rant of a metaphor which hurls itself headlong on its pitiless percussion and thumping guitars. It makes perfect sense – at least for anyone from the UK and melanin-challenged.

But it is 'Strife' and 'Bouncing Bomb' which hint at the latent power of Brown as an iconic poet in the ilk of Lennon (before the overt politics). There is the wit, the ache and the tormented tenderness which never permits itself indulgence, held so rigidly by each melody.

The range of the songs is remarkable but it's their clean structure and haunting lyrics which really mark them out.

Don't underestimate their understated simplicity: Twisted Wheel have to be so tight as there's so much wrapped up in there. Rock 'n'roll exists for such dense genius.

TWISTED WHEEL album now available on Polydor/Sony BMG Records
Album also contains several amazing videos of live performances by the band taken at Manchester's Ritz.